About Our Board
Schools and Education Advisory Board was created by the Town Council of the Town of Southwest Ranches on January 4, 2007 for the purpose of advising and updating the Town Council on any school or educational issues.
The Schools and Education Advisory Board is dedicated to helping young qualified residents improve their lives by assisting them with continuous education, by being advocates for young people who wish to continue their education beyond high school and to develop pride in their community through community service. As a means towards that goal, the Schools and Education Advisory Board has established a scholarship fund to assist students who reside in the Town. The primary source of funding for the annual scholarship is monies from sponsors and fundraising events. All of the proceeds from fundraisers organized by the Schools and Education Advisory Board benefit the Town of Southwest Ranches Scholarship Fund. Scholarships are awarded to eligible applicants once per year.
---
Scholarship Information:
THE APPLICATION PROCESS IS NOW CLOSED. PLEASE CHECK WEBSITE IN THE FUTURE FOR FURTHER UPDATES FOR THE 2023-2024 SCHOLARSHIP APPLICATION PROCESS.
**IT IS STRONGLY RECOMMENDED TO SUBMIT THE APPLICATION PACKETS VIA EMAIL TO druesga@southwestranches.org. HOWEVER IF YOU ARE UNABLE TO ACCESS EMAIL, PLEASE MAIL YOUR APPLICATION TO: TOWN OF SOUTHWEST RANCHES, 13400 GRIFFIN ROAD, SOUTHWEST RANCHES, FL 33330  ATTN: DEBRA RUESGA, DEPUTY TOWN CLERK.**
THE APPLICATION MUST BE RECEIVED BY .
---
Volunteer Service Hours Information:
Town of SWR College Scholarship applicants are required to participate in volunteer services that benefit the Town, and their community. Please see below a list of upcoming events which are great opportunities for students to earn community service hours.
Please click here for Volunteer Log
---
Upcoming Town Events – Volunteer Service Hours Opportunities/Fundraising Events:
Please check back for volunteer opportunities.
Please contact Debra Ruesga at 954-343-7451.
---
2023 Town of Southwest Ranches College Scholarship Recipients
---
2022 Town of Southwest Ranches College Scholarship Recipients
Michaela Freeman
Brandon Harmer
Christina Harrington
Michael Harrington
Jessica Hartmann
Kaleb Hobson-Garcia
Cassandra Kaldirimoglu
Jenna Kipple
Megan Laffey
Isabella Martinez
Milani Martinez
Kaitlyn Meana
Robert Messer
Gabriella Morales
Jashanpreet Singh
Madison Sullivan
Ricky Velasquez
Ryan Williams
Tylor Taporowski
---
2021 Town of Southwest Ranches College Scholarship Recipients
Michaela Freeman
Brooke Giacin
Brandon Harmer
Christina Harrington
Jessica Hartmann
Kaleb Hobson-Garcia
Isabella Martinez
Gabby Morales
Addison Roberts
Jashanpreet Singh
Madison Sullivan
Tylor Taporowski
Ricky Velasquez
---
2020 Town of Southwest Ranches College Scholarship Recipients:
Brooke Giacin
Brandon Harmer
Christina Harrington
Jessica Hartmann
Kaitlyn Hodgers
Sophia Morales
Amber Saunders
Dylan Saunders
Jashanpreet Singh
Sierra Stevens
Tylor Taporowski
Karissa Tiano
Kayla Torres
Ricky Velasquez
Ryan Williams
Grace B. Witcher
---
2019 Town of Southwest Ranches College Scholarship Recipients:
Dylan Schroeder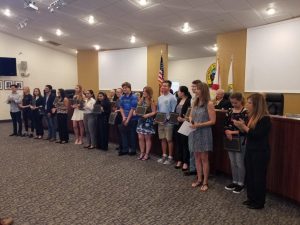 Amber Saunders
Jessica Hartmann
Anthony Garcia
Kaitlyn Arlotta
Christina Harrington
Vivian Camille Martinez
Sophia Morales
Lily Payne
Scott Stevens
Sierra Stevens
Tylor Taporowski
Karissa Tiano
Ryan Williams
Grace Witcher
Not pictured: Brooke Giacin, Kaitlyn Hodgers, Nick Hurst, Julia Kipple, and Dylan Sounders
---
2018 Town of Southwest Ranches College Scholarship Recipients:
Ryan Williams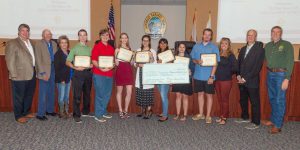 Scott Stevens
Christina Harrington
Kaitlyn Arlotta
Krishani Harrinauth
Kaitlyn Hodgers
Dylan Saunders
Annabelle Juin (not pictured)
Annemarie Juin (not pictured)
Annelyse Juin (not pictured)
Sierra Stevens (not pictured)
---
2017 Town of Southwest Ranches College Scholarship Recipients:
Michael Tromans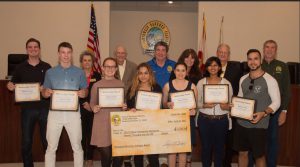 Ryan Williams
Shauna Stevens
Vivian Camille Martinez
Kaitlyn Hodgers
Krishani Harrinauth
Dylan Hernandez
Annemarie Juin (not pictured)
Sierra Stevens (not pictured)
---
2016 Town of Southwest Ranches College Scholarship Recipients:
Shaienne Demerieux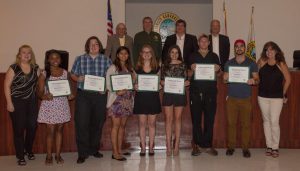 Kyle Gleissner
Krishani Harrinauth
Shauna Stevens
Kaitlyn Hodgers
Dylan Saunders
Dylan Hernandez
Camille Martinez (not pictured)
Sierra Stevens (not pictured)
---
2015 Town of Southwest Ranches College Scholarship Recipients:
Sage Cimetta
DaeSean Demerieux
Krishani Harrinauth
Lindsay Hay
Dylan Hernandez
Kelley Hernandez
Annabelle Juin
Annelyse Juin
Camille Martinez
Raleigh McDonald
Stephanie Morris
Samantha Schroeder
Shauna Stevens
Sierra Stevens