The Town of Southwest Ranches is committed to promoting and protecting the rural lifestyle of our residents while preserving the natural environment.
Following through on this commitment, the goals and objectives of Southwest Ranches' Parks, Recreation, and Open Space (PROS) Department are to provide benefit to our residents and visitors through exemplary management and maintenance of the Town's Recreation, Forestry and Natural Resources including public lands, the Town's Urban Forest, and the diverse wildlife that makes its home here, while cultivating a vibrant community and sense of place.
The PROS Department manages the Town's parks and trails, a system of over 150 acres of land in varying stages of development, linked together for public recreational use through more than 25 miles of right of way trails. Passive recreation amenities available in Southwest Ranches' Parks Program include playgrounds, fitness trails, picnic and meeting facilities, pedestrian and equestrian multi-purpose trails, freshwater fishing, nature trails with historical and environmental education, and geocaching stations.
The Town's Events Program produces multiple recreational and educational events and activities each year.  The Town's calendar contains information on upcoming events.
The Town's Community Wildlife Habitat Program plays a central role in helping residents address the needs of wildlife in our community. Our Community Wildlife Habitat team is working to create awareness through the website, the Southwest Rancher newsletter, and using opportunities on public park sites as they arise, as well as regularly performing public outreach at annual events.
The Town's Urban Forestry Management and Maintenance Program is key to achieving certain goals of the Town's Comprehensive Plan, including improvement of air and water quality.  The Town's Urban Forest consists of thousands of trees on public spaces. Proper management, maintenance, and enhancement of this living, breathing Town asset includes inventorying the trees, prioritization and budgeting for routine maintenance, and assistance to residents in Tree Preservation compliance issues.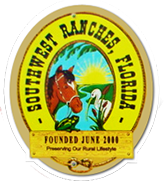 Department staff acts as liaison to the Town's Parks, Recreation, Forestry, and Natural Resources Advisory Board, which focuses through communication and representation of Town residents' priorities on providing recommendations to the Town Council on issues ranging from development of town park lands to performing outreach at community events.
Finally, staff supports the Southwest Ranches Parks Foundation, a private, IRS-designated 501 © 3 charity formed for the purpose of supporting and enhancing parks within the Town.
Email – test@southwestranches.org
Phone Number – (954) 434-008
Image